Johnson Air-Rotation
---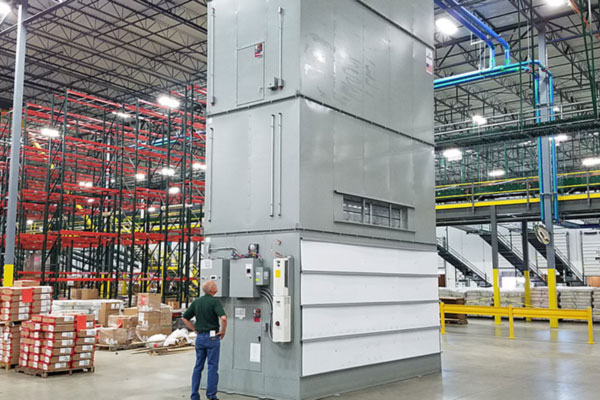 Air-Rotation is a cost effective, efficient, and flexible HVAC system solution for large, open spaces. Any single zone space of at least 20,000ft2, with 15-20ft+ ceilings, is a potential Air-Rotation candidate.Since 1921, Johnson Air-Rotation HVAC Systems has been a leading manufacturer of HVAC products for larger open-spaced industrial buildings. Johnson's revolutionary Air-Rotation technology provides the most energy efficient way to heat, cool and ventilate open-span buildings.
The concept of Air-Rotation® was invented and patented by Nelson Johnson, the founder of Johnson Heater Corporation in the 1950's. The early experimental data indicated the key to properly conditioning a large open space was the air circulation between a high discharge and a floor level return. Heat could be directed, or ducted into a large building by any number of heat producing devices; but if it was not evenly distributed, there would be hot and cold spots, stratification and wasted heating fuel that would fail to satisfy the thermostat control.
The patent on the Air-Rotation® concept was merely the beginning. The application of the Air-Rotation® concept has been constantly refined by Nelson's successors at Johnson Heater Corporation.Today's Johnson Air-Rotation Systems have a wide variety of options and are able to heat, cool, circulate, dehumidify air or add humidity and do these things with incredible energy efficiency. Johnson Air-Rotation HVAC systems use high volume, low velocity, air-circulation to distribute conditioned air to a large open space. We say "conditioned air" because the air in the space may be heated, cooled, humidified, dehumidified or supplemented with outside, fresh air as defined by the requirements of the space. Air Rotation is a total conditioning system, including general ventilation that results in no stratification, vertical temperature control, low energy and maintenance costs. This concept provides for an even temperature distribution of the conditioned air product. Throughout the building, the temperature will not vary by more than +- 2 degrees Fahrenheit from a set point.
Johnson Air-Rotation Systems are designed to project air up to 400 feet from the heat source and 350 feet from the cooling source. One Johnson Air-Rotation system can effectively heat approximately 150,000 square feet and cool up to 125,000 square feet. Systems can be fully customized to meet any building's unique requirements. Whether a system requires a chilled water coil, steam heat, dehumidification, or stainless steel, Johnson Air-Rotation Systems can be configured to meet your custom requirements.